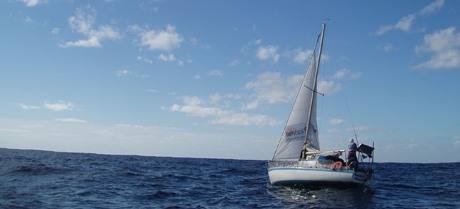 In the far north of Sweden in 2004, a dream was born. Three young students would buy a small, 40-year-old sailboat and circumnavigate the Earth, a bold adventure to challenge themselves, experience the Earth's extremes, and inspire youth with the message that anything is possible. With no previous sailing background, Danjel, Jonatan and Kajsa fixed up their beloved boat, Sally Blue, trained in some horrendous weather and then set out on September 2005 to realize their dreams. As they tackle a challenge more immense than they could have imagined, the team will update this website at port calls and invites you to share in their adventures.


On saturday at noon Sally Blue reached the harbour outside Umeå where they said goodbye to friends and family almoust two years ago. A fleet of around 20 boats met up a few miles from the harbour, among them the searescueteam and media. Flares, ballons and champange was flying in the air and all the boats where honking. It was three young sailors with very bis smiles that jumped on solid ground and was met with hugs and applaudes.

Sally Blues crew will return to the boat and head north this evening. They still have some miles to go, including a short sailingcompetition outside Kalix and the final trip into Kalix town next sunday.


I think it is sweden! (Check the position)

| | | | |
| --- | --- | --- | --- |
| | Sally Blue, the sailingboat! | 2007-06-30 | |

Sally has finally transformed into a sailingboat again after one mounth of motoring. We are sailing to Sassnitz about 120 nm to the east in a few hours. A good leg to start with. Hopefully we havent forgotten everything in the art of handling a real boat.

The mast was dancing maruenge to the music from the market yesterday. It might have been because it was happy to stand straight again, but the fact that we put it up during the world championship in motorboatracing might have helped. Bad waves made the mast shake its entire body, the boat to rock and the crew to swere.

We hope to arrive in Sweden around the seventh of July.